FLIGHTCON AVIATION SERVICES GMBH
… exists only since the year 2017, however aviation has been the focus of my working life since 1996! I offer 25 years of experience in the fields of commercial and corporate aviation, the purchase, sale and operation of business aircraft, in regional air transport and management of companies. I place the customer first – according to Jay Danzie:
"Your smile is your logo, your personality is your business card, how you leave others feeling after an experience with you becomes your trademark."
My competency is definitely in Business Aviation and the related core areas.
Advising in aviation and for aviation

Purchase
of aircraft
The process of purchasing an aircraft is extremely complex:
Which aircraft type
Aircraft comparison
Market analysis
Decision making
Letter of Intent (LOI)
Purchase agreement
Pre-Purchase inspection
Delivery and acceptance
Registration
Ferry flight
I assist you professionally to ensure that all paperwork is taken into account and compliant.

Operation
of aircraft
In which legal framework should your aircraft be operated:
Commercial – Part CAT
Non commercial – Part NCC
Compliance with legal requirements
Operating cost analysis
Transparency
Lease agreement
Operator agreement
AOC Operator
Regulatoty requirements
Overhaul and maintenance
I will advise you competently and objectively so that your aircraft becomes an operational success.

Evaluation
of aircraft
Many items affect the value of your aircraft:
Year of manufacture
Total flight hours
Landings
Engine hours
Avionics
Cabin
Aircraft history documents
Documentation
Painting
Other equipment
With the specific available facts, your aircraft will be evaluated in compliance with the market.

Sale
of aircraft
After the market evaluation the aircraft sale will start:
Exposé
Aircraft presentation
Marketing plan
Communication with buyers
Letter of Intent (LOI)
Deposit
Inspection and Acceptance
Closing
Delivery
Removal from the register
Handling and documentation of the sale between seller, buyer and Civil Aviation Authority.
Tailored to your needs in aviation

Interim
Management
Suitable employees are not always immediately available and in aviation the demands on management personnel are growing.
Suitable does not necessarily mean qualified and vice versa! Through my interim management you have a clear advantage: flexibility and constant cost control.
In addition, I support you in filling positions in flight operation companies, so-called nominated persons, such as Accountable Manager, Ground Operations and/or within the Part-145.

AIRCRAFT
Management
Is it profitable to operate an own company aircraft? Who controls it? Who takes care of the maintenance?
Who takes care of the technical support? Who plans the budgeting and monitors the costs? Is the monthly invoicing correct?
I provide you with the answers: Benefit from my many years of experience, which is the essential prerequisite for successful aircraft management.

TRAVEL
Management
You would like to expand your personal radius of action and that of your company? For private activities or business purposes?
In doing so, it is important to use your valuable time as efficiently as possible. Business Aviation is part of the solution and in terms of time savings, safety, costs, flexibility and comfort, the leading alternative to scheduled flights.
Short distances, no crowded security areas, no waiting times. From where you want, when, where, how and with whom you want. Either for your business trip, trade fair flight, service or support flight, express flight or private flight.

Project
Management
I support you in the implementation of different projects.
Foundation of a new commercial operations (AOC), expansion of the aircraft fleet within the operation or the establishment of a maintenance operation.
Operational processes are to be considered and operation manuals must be adapted.
Solution oriented support in aviation
ALL ABOUT OPERATION
Staff, training, maintenance and repair, interior, exterior, Operation Manuals such as OM Part-A and Part-D, Continuing Airworthiness Management Exposition (CAME), Maintenance Organization Exposition (MOE), Safety & Compliance Management Manuals (SCMM), Operation Management Manual (OMM) and so on. Ask and I will provide you with the solution.
COST ANALYSIS
What are the costs of operating an aircraft? This must already be calculated before purchasing an aircraft so that there are no surprises! Cost calculation and budget/actual comparisons help to ensure that you keep an eye on costs. This topic is particularly close to my heart, because in the end someone has to pay the bills.
DIGITALIZING
The work processes in flight operations are manifold and time-consuming. A large number of receipts are generated for each flight. Processing them is work intensive and uneconomical. With digitization, all data can be captured quickly and securely and can be retrieved at any time. The workload is reduced, saving time and conserving resources. Work processes are made easier and more effective. Contact me and we will talk about the various possibilities.
BROKERAGE
You need to get to a destination as quickly as possible? With Business Aviation, you can make optimal use of your company's most important resources: time and personnel. Don't let airline schedules dominate your travel times. In Europe, there is a close-meshed and optimally positioned airfield network and more than 1,500 airfields are available. Ask me and you will receive an offer tailored to your needs.
Customer- and service-oriented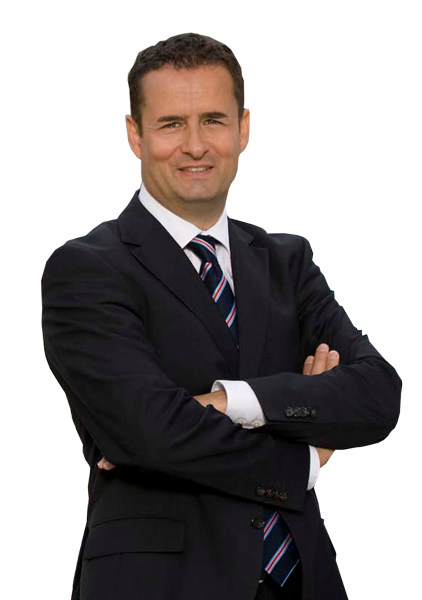 After studying and graduating in business administration at the University of Cooperative Education in Ravensburg, I began my professional career in 1994 with the tour operator Hetzel Reisen in Stuttgart, in the area of purchasing flight capacities, flight planning and flight scheduling, as well as the control and optimization of capacity utilization in the charter flight sector. From this area I changed to the EHEIM group of companies, started at Contact Air Flugdienst and changed within the group in 1997 to Stuttgarter Flugdienst GmbH (SFD).
From 2001 to 2013, I was the General and Accountable Manager of the commercial operation and Part 145 operations at SFD. After further leading positions in different aviation companies, I started my self-employment in 2017. With the brand FLIGHTCON Aviation Services GmbH – Consulting – Management – Support – I perform different consulting services within aviation.
In addition, I am the Managing Director of the German Business Aviation Association e.V. (GBAA)!
I look forward to hearing from you and talking to you in person. Please click here for contact details!

I definitely don't know everything, so I use experienced and highly qualified aviation specialists from my network. My team consists of professional aircraft pilots, aviation experts, engine professionals and engineers as well as lawyers and auditors. With this comprehensive knowledge, they all have the necessary technical and operational expertise in the aviation industry. We offer you maximum flexibility and advice tailored to your needs. But the calculation of cost-efficiency always remains with me!
My customers are different companies, aircraft owners, commercial and corporate aircraft operator (Patz CAT and NCC, maintenance provider, lessors and anyone who values individual and objective consulting services.

FLIGHTCON Aviation Services GmbH